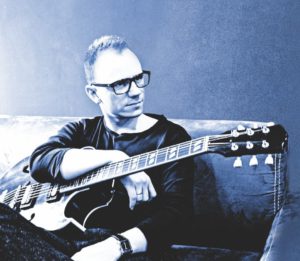 A guitarist, a session musician, a composer. Graduate of the Music Academy in Gdańsk.
1st place on the 7th International K. Sosiński Contest Estrada Gitarowych Talentów, named the Greatest Hope on the 11th International Festival Gdańskie Spotkania Gitarowe in 2001. Laureate of the 11th Young Jazz-Blues Bands Review in 2008 in Gdynia.
In 2018 noted as one of five top best jazz polish guitarists by the JazzForum magazine's music critique's voting.
Cooperation
Marcin cooperated with the leading Polish jazz musicians, such as Leszek Możdżer, Przemysław Dyakowski, Wojciech Karolak, Maciej Sikała, Krystyna Stańko, Wojciech Staroniewicz, Krzesimir Dębski, Adam Czerwiński, Piotr Lemańczyk.
Marcin is also a part of the following formations: Elec-tri-city, Quartado and MAP.
Albums
Apart from working with other artists, Marcin Wądołowski also records his own material.
His albums are: Git Majonez (2011), his debut; Blue Night Session (2014); My Guitar Therapy (2015), recorded under the patronage of the Third Polish Radio Programme, Standards (2016) – an album that stands out due to consisting fully of other people's compositions, dedicated to the memory of Marek Bliziński and Jarek Śmietana and recently released "Preludes for guitar and double bass" (DUX 2018), Chamber Avenue, Mozart Rocks and swings, Private Channels
Own albums





As a sideman
The Moongang – Taxi
Elec-tri-city (2013) feat: Leszek Możdżer
Elec- tri -city – Depth of focus (2017r)
Quartado (2014)
Quatrado 2 (2019)
Krystyna Stańko – Novos Anos (2016)
Krystyna Stanko— Aquarius (2019)
MAP – Kiedy byłem
MAP – Grooveoberek (feat: Krzesimir Dębski)
Piotr Lemańczyk Electric Band feat. Leszek Możdżer "Inherited dream"
Wojciech Karolak/Adam Czerwiński – In a sentimental mood
Wojciech Karolak – 80th Birthday Concert, Live at Radio Gdansk
Leszek Kułakowski "Witkacy- narkotyki'